Chartering a yacht with a crew is not only one of the best ways to tour your preferred destinations, but also a unique experience. Rather than booking a standard all-inclusive resort, chartering a crewed yacht allows you to do something more tailored to your preference.
When you charter a yacht on the West Mediterranean Sea, you can do anything you want to do and set your itinerary. Spending time on a smaller, more intimate cruise ship is preferable to a massive one. Read on to learn more about this beginners guide to charter a yacht.
Why Should You Charter a Yacht?
Yacht charters can be a great way to add a new twist to any water-based vacation. Yacht rentals offer a one-of-a-kind experience that combines the elegance of a five-star luxury hotel with the thrill of a boat ride into one unforgettable experience.
Chartering a yacht, primarily a floating resort that can move you anywhere you want to go, brings a whole new world of vacation possibilities. Rather than staying in a private room or a luxury hotel palace, a yacht provides you with all of the facilities of a high-end hotel room while also providing transportation. Chartering a yacht, such as a cruise ship, offers several compelling benefits:
A Broad Variety of Yachts
Tourists who charter a yacht on the West Mediterranean Sea have various options for the type of vessel they can book. The basic options are sailing vessels, yachts with motors and catamarans.
After selecting a primary boat, determining the best yacht charter for you and your group comes down to individual needs and desires. You can also choose your best charters based on your financial capability.
Personalised Experience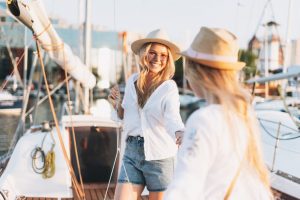 For a fully customized experience, most sailboat charters entail access to a crew, which includes a captain, a maintenance crew, and a kitchen staff. Rather than relying on a menu, the yacht's chef can create meals tailored to your preference and taste buds, no matter where you're going or what you're craving. A sailing vacation like this can offer you lots of one-of-a-kind adventure that you won't find anywhere else.
Insider Knowledge
The chartered yacht's crew will provide you with information about the neighbouring regions and the history of various locations. Your crew will teach you about the area you're visiting, plus they can give you insider knowledge about any notable stops you may want to make when you go ashore. Such briefings provide a more casual and discursive learning experience in a more relaxing environment.
Advanced Security
Since you can have additional security devices and advanced communication and navigation equipment in the extra space provided by a yacht support vessel, you can feel safe knowing that another vessel is near you, even if it is out of sight. The support vessel's main role is to watch the mother ship and her surroundings and ensure a smooth passage.
Unparalleled Personal Liberty
A traditional hotel will not move with you, but a sailboat can make your tour into whatever you would like it to be. Even though the fuel is more often factored into the price of chartering a boat, your imagination and any applicable local laws are the only fundamental limitations to where you can visit and what you'll do. You have a controlling position over where and how your retreat with a yacht, which other water-based vacations, such as boat tours, cannot contest. You can visit different ports and cities, go water sports or scuba diving in remote areas, or sail the seas in a luxurious lifestyle.
A Wide Range of Activities
Many crewed yacht charters involve activities like diving or snorkelling. Some even include all of the necessary scuba diving equipment (although there may or may not be a fee involved). Other popular pastime activities on a yacht include fishing, exploring exclusive islands and basking in the calm trade winds or the white sands of the region's beaches. On a boat, you'll never feel restricted or trapped, no matter what you choose. You'll have a whole space to move around, and you'll be able to get off and explore the water or land at each stop.
Excellent Facilities
Typically, people use boats for transportation. However, a yacht is more similar to a mansion than a car. Most vessels have gourmet kitchens, steam rooms and saunas, swimming pools, spa areas, hot tubs and even smaller boats for day trips. Mega-yachts may even have helicopter landing pads for owners or visitors to use.
Like staying in a five-star hotel, chartering a yacht provides access to luxurious amenities that are not available in other vacation options. On a vessel, you can opt to go anyplace and do anything while still enjoying the comforts of home.
A Chance to Explore
A yacht charter is all about getting away and exploring new places. Time moves more slowly on a boat. It's an opportunity to reconnect with nature and enjoy life's simple pleasures, such as watching a sea turtle swim by or watching a spectacular sunset. Most importantly, you enjoy spending time with those you care about in the world's most desirable destinations.
One of the few holidays that your entire family will remember and cherish for the rest of their lives is the one free of the digital world and other disruptions. Undoubtedly, any vacation day far outweighs the mundane daily routine, regardless of where or how you spend it. That isn't to say that all travel arrangements are created equal.
Refit Management
A yacht management company can project a new build or manage minor or major refit work on a vessel that is already owned or recently purchased. From obtaining quotes from multiple shipyards for comparison to having someone on the ground overseeing day-to-day operations, such companies will do everything for you.
A yacht refit is a difficult task. Going over budget and schedule is easy if you don't have good management, careful planning, and ongoing evaluation. It is critical to have an effective management company to ensure that the refit is both efficient and cost-effective.
Final Word
The luxury of chartering a yacht on the West Mediterranean Sea for holiday activities is well worth it. Eliminate Allow the worries of what to eat and the route to take by entrusting everything to the highly qualified, friendly and knowledgeable crew on a chartered trip.